Description
SCREEN PRINTING SERIES
THIEME 5000
Fully automatic screen printing system with rotary grippers. Precision built, short set-up times. Absolute reliability for multi-shift operation. High precision and speed through servo drive motors.
Precision built
Maximum volume output, also for different formats and materials
Short set-up times
High precision and speed through servo driving force
Machine job data storage memory
Complete machine programmabiltiy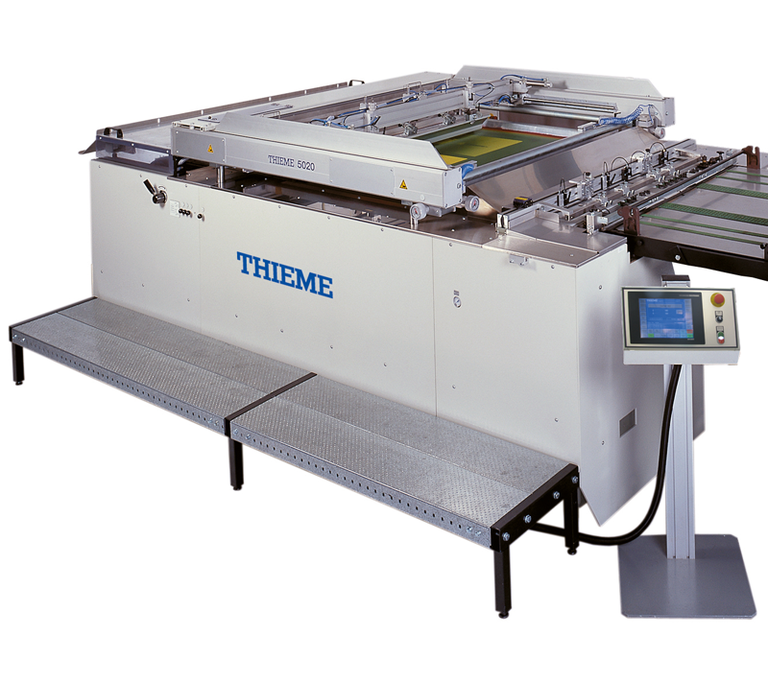 Why THIEME 5000?
Fully automatic with manual loading opportunity
High flexibility of the substrates from 0.1 to 6 mm
Short setup times by tool-free setting
Fast Investment amortization due to low staffing
Highest Productivity
Absolute reliability in multi-shift operation
Thieme-Quality žMade in Germanyœ
Specifics
Material handling by circulating gripper system
Automatic sheet positioning
Precision and speed through servo drive technology
Printing parameters stored for recurring print jobs
Exceptional print results from THIEME designed table and original THIEME Squeegee Unit
Loading / unloading on pallets
Durable machine concept, usable as a ¾ auto- machine
Individual selection of a machine options based on customer requirements
Extensive Feeder options (single sheet, scale, leading / trailing edge)
Technical data
Type of machine
5020
5030
5040
5050
5060
5070
Print size [mm]
750×1050
1000×1400
1200×1600
1400×1800
1550×2100
1600×2600
Frame size [mm]
1200×1400
1450×1750
1700×2000
1900×2200
2055×2500
2200×3200
Table-External dimensions [mm]
869×1214
1098×1564
1288×1814
1479×2014
1669×2314
1779×2814
Vacuum field size [mm]
780×1080
1020×1440
1220×1640
1420×1840
1580×2140
1640×2640
Sheet size max. [mm]
800×1100
1050×1450
1250×1650
1450×1850
1600×2150
1660×2660
Screen fine tuning X-X-Y [mm]
+/- 5
Squeegee speed [m/sec]
0,3-1,5
Range of substrate thickness [mm]
0,1-6
Weight of printing material [g/m²]
120-3000
Gripper frame
approx. 8
Circuit connection [kW]
8,4
Power supply [V]
230/60, 400/50
Print speed on request.
All technical information are not binding and subject to change.